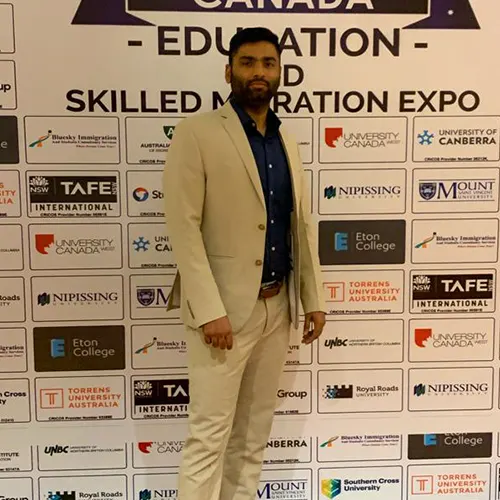 Immigration Counselling

Student Visa

Tourist Visa

Career Counselling 

Course and University Selection
Shazaman Khan is the Director of Bluesky Immigration, a distinguished figure in the realm of immigration services, known for his unwavering commitment to helping individuals and families navigate the complexities of the immigration process. With a wealth of knowledge and expertise in immigration laws and regulations, Shazaman Khan has earned a reputation as a trusted authority in the field.
With years of experience working in various immigration agencies and organizations, Shazaman Khan has developed a deep understanding of the challenges faced by individuals seeking to migrate to new countries. His extensive expertise spans a wide range of immigration categories, including skilled worker programs, family sponsorship, student visas, and citizenship applications.
Shazaman Khan is renowned for his client-centric approach, aiming to provide personalized solutions tailored to the unique needs and circumstances of each individual. He is dedicated to building strong relationships with his clients, fostering an environment of trust and open communication. By staying updated with the latest developments in immigration law, Shazaman Khan ensures that his clients receive accurate and reliable information, empowering them to make informed decisions about their immigration journey.
Beyond his professional acumen, Shazaman Khan is recognized for his compassionate and empathetic demeanor. He understands the emotional and logistical challenges that his clients face during the immigration process, and he goes above and beyond to alleviate their concerns by offering guidance, support, and reassurance throughout their entire journey.
Shazaman Khan's extensive network of connections with government agencies, immigration officials, and legal professionals enables him to streamline the immigration process and expedite his clients' applications. His attention to detail and commitment to excellence have resulted in numerous success stories, with individuals and families achieving their immigration goals under his guidance.
As a leader in the immigration industry, Shazaman Khan actively advocates for fair and inclusive immigration policies. He engages in community outreach programs, provides pro bono services, and participates in immigration-related conferences and seminars, contributing to the ongoing dialogue surrounding immigration issues.
With his professionalism, integrity, and unwavering dedication to client satisfaction, Shazaman Khan has established himself as a trusted name in the field of immigration services. As the Director of Bluesky Immigration, he continues to assist individuals and families in making their dreams of living in a new country a reality, ensuring that the immigration process is smooth, transparent, and positive for all those he serves.
contact details
1/4 F/F, Main Rd, East Patel Nagar, New Delhi, 110008